THE PALAPA GUY TESTIMONIALS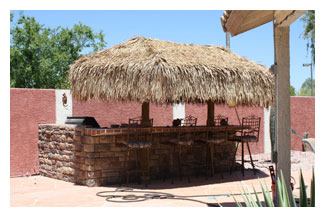 My husband and I purchased our first palapa about three years ago from The Palapa Guy here in Phoenix after seeing their product at the Home Show. They built a 16' x 10' two pole palapa in two days over the outside bar that required boring two holes through the concrete counter. It was one of the best purchases we ever made as it provided shade that allowed us to sit at the bar all summer.

We were so impressed with their work that last year we had Eric and his crew come back and build a second palapa off the kitchen (on the west side of the house), replacing a old screen room. This was a four pole 22' x 12' palapa that again made the backyard by the pool more usable during the hot weather and shades the house from the sun. I also somehow managed to talk my husband into having The Palapa Guy's build two permanent palapa umbrellas with tables into the pool deck. We no longer have to chase umbrellas after each microburst or heavy storm.

We have nothing but regard for The Palapa Guy's. Working with them was so easy. They were very accommodating and everything turned out perfect. Our backyard looks like an oasis at a fancy resort. Whenever we have a party, friends and neighbors have nothing but compliments about the work.

Give us a call so we can help you create your very own backyard oasis.
Use the form to get a free quote!