THE PALAPA GUY TESTIMONIALS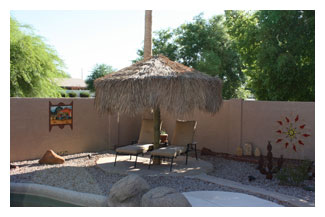 We purchased a Palapa from The Palapa Guy's and what a difference it made in our back yard.
It feels like a resort. We have coffee under the Palapa in the morning and a drink under it in the afternoon. It gave us shade and softened the back yard, we have a pool that is really beautiful but when people come over they always point at the Palapa and say, "That is so cool." Then they ask how we got it and we tell them about The Palapa Guy here in Phoenix. Thanks we love our Palapa.
Give us a call so we can help you create your very own backyard oasis.
Use the form to get a free quote!