THE PALAPA GUY TESTIMONIALS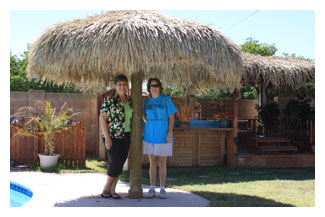 I moved to Phoenix seven years ago from Miami, Florida. It was a big move for me, as I had lived in Florida for about 45 years.
One thing I always wanted was a palapa for my backyard. My brother heard me talking about it and sent me just the woven palm cover for my Birthday. All the instructions said was to "just put over a regular sun umbrella".

Well, I tried that and watched as the umbrella looked like it would snap in two any minute.

"The Palapa Guy" is one of my neighbors and I had noticed his truck outside his house. I copied the phone number and called him frantically to come give me some ideas.
Within a week, I had a beautiful custom palapa on my patio and a thatched cover over my existing spa gazebo. I love Phoenix and now I have a touch of Florida in my backyard.
典he Palapa Guy" company was wonderful and I would recommend them absolutely.

Thanks for a job well done!
Give us a call so we can help you create your very own backyard oasis.
Use the form to get a free quote!